White/Hispanic Segregation in Sonoma County Schools
by Bianca Licata
Fifth in a Five-Part Series.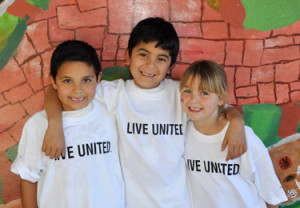 The combination of anti-immigrant attitudes and policies, the dismantling of programs for English Language Learners, and the demands of No Child Left Behind into the context of Sonoma County's demographics, where 42 percent of students are identified as Latino, and 22 percent are in the process of learning English6 the negative and often stereotypical stigma white families attach to Hispanic students was inevitable.
This negative stigma is reflected in the current language disseminated by some educational pundits in Sonoma County, where the total number of English learner enrollment increased from 1990 to 2009 by 282 percent.5      While the Sonoma County Office of Education states that one of their priorities is to "Develop and support strategies to ensure that English learners are successful in school settings; promote best practices through professional development for educators"2, the Sonoma County Economic & Demographic Profile of 2011 described English Language Learners (ELLs) with a more burdensome tone (bold added):
"ELL programs require additional school resources per student, although enrollment in the program does not increase school funding, so this can be a measure of hardship for local school districts. It is also a measure of community culture – children and families who continue to primarily use a non-English language can indicate adherence to native culture and may have less access to high paying employment opportunities."
Of course, being sponsored by the Center for Economic Development (CED), the Sonoma County Economic Development Board (EDB), and the Sonoma County Workforce Investment Board, it is no wonder that such language would carry a disconcerting tone, suggesting that the fiscal requirements outweigh the economic benefits of investing in ELL education. The Profile, unfortunately, is not alone in this belief.
In The Inconvenient Truth About Waiting For Superman, the myth of the charter school as the salvation to a "failing education system" was debunked, showing the manipulation of testing scores by excluding special needs children (as conveyed by Ann about Willowside Middle School), and ELL students, as well as those students who prove to test poorly after entering the school (via lottery.) The result of these manipulated scores is that many parents—mostly white and middle class—place their children in charter schools, thereby redirecting funding away from public schools who need the money (that once was there) to support the lowest performing students, and therefore the entire school. These sentiments have been shared by Diane Ravitch, former U.S. Assistant Secretary of Education:
"Our schools cannot improve if charter schools siphon away the most motivated students and their families in the poorest communities from the regular public schools."20
 Unfortunately, this trend is also true in Sonoma County where, if Hispanic/Latino(a) students comprise the majority of minority students in public schools, and the majority of ELLs, white parents tend to place their children in charter schools. Like other Western states with large Hispanic populations,
Hispanic students are under-enrolled in charter schools, engendering segregation characteristic to education prior to Brown v. Board of Education.21  This trend is not merely connected to racist sentiments; in Sonoma County, because charter school enrollment is also closely connected to the (increased) income of most parents, and because Hispanic families tend to comprise the majority of those with students on Free and Reduced Price Lunch22, many Hispanic families are therein not enrolled in charter schools. This has become a concern over the last several months in Santa Rosa where "Slightly more than 44 percent of the district's high school students qualify for a free or reduced-priced lunch.  At the same time, in 2012-13, 2.3 percent, only 128 students, in Santa Rosa Accelerated Charter School (SRACS) qualified for a subsidized lunch." To remedy this situation, "Santa Rosa City Schools is overhauling enrollment policies for the district's four dependent charter schools to try to increase diversity."23
"Enrollment will continue to give priority to siblings of SRACS students, but the second tier of priority will put students from across Santa Rosa City Schools' high school boundaries into two pots: one with students who qualify for free or reduced-priced lunch, and one for those who do not.  After siblings, remaining spots will be doled out at a 2-to-1 ratio favoring economically disadvantaged students until the incoming class of fifth-graders reflects the demographic ratio across the high school district."23

This mandate has caused extreme controversy within the schools, who claim that they did not have input.
The mandate also comes after the controversial closure of Doyle Park Elementary, which was replaced by the French Charter school that initially co-located with it.  The closure was said to have "pitted two communities against each other, Doyle Park families"—a majority of whom were Latino— and "the families of children who had signed up for the French charter school"—a majority of whom was white.24   The segregation caused by the establishment of such charter schools, which are exempt from most provisions of the Education Code25, appears to be all for naught, as there is currently no substantial evidence that charter schools are better than public schools. However, for some reason, the trend of charter school enrollment continues.
The Future
Ms. Jones experience rings true throughout the district (A Mother's Dilemma):  Many white parents, driven by a variety of factors ranging from perceived superiority of charters to latent racism and anti-immigration beliefs, are enrolling their children in charter schools, effectively separating white students from Hispanic/Latino(a) students.  According to the Sonoma County Office of Education (SCOE):
"…70,637 students attend the 182 public schools that are located in Sonoma County. There are 107 elementary, 24 middle/junior high, and 19 high schools, as well as 25 alternative schools and 7 independent study schools. Fifty-six of these schools are charter schools."22
Sonoma County is "a hotbed for charter schools. In the Bay area, only Santa Clara and Alameda counties have more."26 Clearly, charter schools are not going away, and the real issue of segregation that seems inherent in them won't either.27  By 2020, those who identify as Hispanic will comprise 32 percent of Sonoma County's population1. Therefore, if we as community members, educators and policy-makers are to provide equitable and fair education that supports a growing population of Hispanic students—both culturally and academically, including through ELL aid—more regulation must be installed into existing and newly established charters.
In addition, we must address the racist myths surrounding Hispanic folks, immigration, and English Language Learners if we are to truly reflect the ideals envisioned by those who fought against segregation so many decades ago. We must dig deep to ask ourselves why we educate and what our educational institutions mean for our future.
————————–
For the complete series:
Part One: A Mother's "Dilemma" and School Segregation
Part Two: Teaching English Language Learners: History and Tensions
Part Three: Current Struggles for English Language Learners
Part Four:  No Child Left Behind Damages English Language Learners Programs
Part Five:  White/Hispanic Segregation in Sonoma County Schools
————————–
3. "Primary Language Support: Facilitating English Language Development and Sheltered Content Instruction through Effective use of Students' Primary Language(s) by: Dr. Wayne E. Wright." Equity Alliance Primary Language Support Facilitating English Language Development and Sheltered Content Instruction through Effective use of Students Primary Languages by Dr Wayne E Wright Comments. N.p., n.d. Web. 28 June 2014. <http://www.niusileadscape.org/bl/primary-language-support-facilitating-english-language-development-and-sheltered-content-instruction-through-effective-use-of-students%E2%80%99-primary-languages-by-dr-wayne-e-wright/
6. Cerda, Natalie (2006), Bilingual Education Legislative Timeline
8.Reeves, Jenelle R. (2006). "Secondary Teacher Attitudes toward including English language learners in Mainstream Classrooms". Journal of Educational Research p136.
9. "Acquiring English as a Second Language." : What' s Normal and What' s Not. N.p., n.d. Web. 28 June 2014. <http://www.asha.org/public/speech/development
20. "Welcome to The Daily CAFE." TheDailyCafe.com. N.p., n.d. Web. 1 June 2014. <http://www.thedailycafe.com>.
21. Abedi, Jamal; Dietel, Ron. "Challenges in the No Child Left Behind Act for English Language Learners." National Center for Research on Evaluation, Standards, and Student Testing (CRESST)/UCLA. 2004
22. Ravitch, Diane. The death and life of the great American school system: how testing and choice are undermining education. New York: Basic Books, 2010. Print.
23. Frankenburg et al., Erica. "Choice Without Equity: Charter School Segregation and the Need for Civil Rights Standards." Civil Rights Project. N.p., n.d. Web. 1 June 2014. <http://files.eric.ed.gov/fulltext/ED509773.pdf
24. Cosentino de Cohen, et al. , Clemencia. "Putting English Language Learners on the Educational Map." Education In Focus 1.1 (2010): 1-9. Urban Policy Brief. Web. 1 June 2014.
25. Benefield, Kerry. " Dispute over new rules for Santa Rosa charter schools." Press Democrat [Santa Rosa] 5 Feb. 2014: 1-3. Press Democrat. Web. 1 June 2014.
26. Espinoza, Martin. "Closure of Doyle Park school resonates in Santa Rosa school board race." Watch Sonoma County 28 Oct. 2012: 1. Watch Sonoma County. Web. 1 June 2014.
27. "California Commission on Teacher Credentialing." California Commission on Teacher Credentialing. N.p., n.d. Web. 28 June 2014. <http://www.ctc.ca.gov/employers/charter-schools.html>.
28. Benefield, Kerry. "Reshaping Sonoma County schools." Watch Sonoma Count [Sonoma County] 1 June 2014: 1. <http://www.watchsonomacounty.com/2011/08/education/reshaping-sonoma-county-schools/>