No Child Left Behind Damages English Language Learners Programs
by Bianca Licata
Fourth in a Five-Part Series.
Part One of this series "A Mother's 'Dilemma' and School Segregation," which looks at segregation between Hispanic and white students in Sonoma county, illustrated how current attitudes and policies affect white parents, leading them to make choices that increase segregation in the schools.  Part Two, "Teaching English Language Learners: History and Tensions" provided a brief history of programs designed to support English language learners (ELLs) and Part Three "Current Struggles for English Language Learners" showed how anti-immigration laws and ideologies intersected with those programs and created a challenging environment for ELL students.  This post examines how even the continued efforts of educators to provide support for their English language learners has been undermined by, among other things, the Federal Education policy called No Child Left Behind and its testing programs.
Despite growing antagonism toward "illegal immigrants" many educators, like Jordan's, diligently worked to support their ELL students.  Some turned to Specially Designed Academic Instruction in English (SDAIE), utilizing their curriculum to provide their ELLs access to multiple disciplines while learning English.  Some schools scheduled an English Language Development block to target different leveled groups of students based on their California English Language Development Test (CELDT) results; some teachers used the "buddy system" and paired ELLs with a comparable and supportive peer, often bilingual.
Some teachers employed independent work groups within their classroom in order to provide individualized support for groups of struggling students including ELLs18.  Unfortunately, while teachers have adapted their classrooms to serve ELLs, this population still faces the challenge of blanket academic stereotypes, often leading to a negative image of ELLs as a whole.
The average second-language learner requires two years to acquire Basic Interpersonal Communication Skills (BICS), which involve the context-embedded, everyday language that occurs between conversational partners, while it takes five to seven years for an ELL to acquire Cognitive Academic Language Proficiency (CALP), showing they have developed a "context-reduced language of academics" commensurate with that of native speakers8.   This means that ELLs may appear fluent, but still struggle in many subject areas, a gap known as the BICS-CALP gap, which leads educators and other discerning adults to falsely believe English Language Learners are learning disabled,8 uninterested, unengaged, or simple poor students.
In addition, not all ELL students are created equally, and their differences must be taken into consideration: Factors affecting ELL English proficiency include "the language spoken at home, the socioeconomic circumstances of the family, the age of the child and extent of exposure to English, fluency in the home language, circumstances surrounding the family's immigration to the U.S., and the particular values and customs of the family"9 as well as the student's proficiency in their first language3.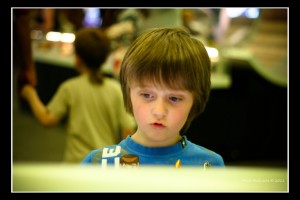 Yet, thanks to No Child Left Behind (NCLB) in 2002, the variety of critical factors that ought to inform teacher instruction of ELLs disappeared in efforts to simply boost test scores, rendering the concept of differentiated, specialized education (and perhaps more personal attention) moot.  Instead ELLs became viewed as burdensome, preventing schools from reaching their Adequate Yearly Progress and causing them to be placed on Program Improvement because, according to National Center for Research on Evaluation, Standards, and Student Testing (CRESST)/UCLA:
State tests show that ELL students' school performance is far below that of other students, often times 20 to 30 percentage points, and usually shows little improvement across many years… the language demands of tests negatively influence accurate measurement of ELL performance… The goal of redesignating high-performing ELL students as language-proficient students causes ELL high achievers to exit the ELL subgroup.  The consequence is downward pressure on ELL test scores worsened by the addition of new ELL students, who are typically low achieving… CRESST research shows substantial non-school effects on student learning even within ELL subgroups.  Schools are therefore unable to control all factors related to student achievement."19
In brief, ELL students could never reach—and therefore never be expected to reach—the 100% proficiency demanded by NCLB. In fact, most students, including native speakers, could not. However, taking the longtime evolution of discrimination against ELLs (via U.S. policies and reduced funding for ELL programs), the pressures of NCLB, and the growing racism against immigrants (documented and undocumented), the obvious impossibility NCLB charged to ELL students did not seem so obvious.
Taking this information into the context of Sonoma County's demographics, where 42 percent of students are identified as Latino, and 22 percent in the process of learning English6 the negative and often stereotypical stigma white families attached to Hispanic students was inevitable.  Part Five of this series, "White/ Hispanic Segregation in Sonoma County Schools" explores the current situation in Sonoma county and asks questions about the future.
————————————
For the complete series:
Part One: A Mother's "Dilemma" and School Segregation
Part Two: Teaching English Language Learners: History and Tensions
Part Three: Current Struggles for English Language Learners
Part Four:  No Child Left Behind Damages English Language Learners Programs
Part Five:  White/Hispanic Segregation in Sonoma County Schools
———————-
3. "Primary Language Support: Facilitating English Language Development and Sheltered Content Instruction through Effective use of Students' Primary Language(s) by: Dr. Wayne E. Wright." Equity Alliance Primary Language Support Facilitating English Language Development and Sheltered Content Instruction through Effective use of Students Primary Languages by Dr Wayne E Wright Comments. N.p., n.d. Web. 28 June 2014.
6. Cerda, Natalie (2006), Bilingual Education Legislative Timeline
8.Reeves, Jenelle R. (2006). "Secondary Teacher Attitudes toward including English language learners in Mainstream Classrooms". Journal of Educational Research p136.
9. "Acquiring English as a Second Language." : What' s Normal and What' s Not. N.p., n.d. Web. 28 June 2014. <http://www.asha.org/public/speech/development
15. AP. "Court Considers Education for Alien Children." The Telegraph [Washington] 1 Dec. 1981, N/A ed., sec. N/A: 11. <http://news.google.com/newspapers?nid=2209&dat=19811201&id=i6ErAAAAIBAJ&sjid=gfwFAAAAIBAJ&pg=4509,116260>
16."Anti-Immigrant." Southern Poverty Law Center. N.p., n.d. Web. 28 June 2014. <http://www.splcenter.org/get-informed/intelligence-files/ideology/anti-immigrant>.
17."Inside America Hate: Ku Klux Klan". https://www.youtube.com/watch?v=jmc92f_4Cpg
18. Face to face interview with "Jordan"
19. "15 Of Limbaugh's Most Offensive And Controversial Comments Targeting Immigrants." Media Matters for America. N.p., n.d. Web. 1 June 2014.