Support Prison Hunger Strikers
Racial Justice Allies urges you to consider taking a pledge to support the hunger strikers in California State Prisons who are protesting the continued use of long term solitary confinement.  Read the letter below and find further information here.
From the Prisoner Hunger Strike Solidarity coalition in the Bay Area.
Dear friends,
I am writing to you on behalf of the Prisoner Hunger Strike Solidarity coalition in the Bay Area.  Our coalition supports the long term struggle for the human rights of people incarcerated in solitary confinement in California's prisons. We are a group of advocates and activists, organizations, family members whose loved ones are in solitary, and formerly incarcerated people. (www.prisonerhungerstrikesolidarity.wordpress.com)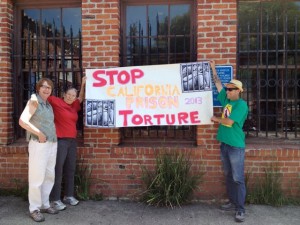 This summer California prisoners are going on hunger strike beginning July 8.   Their history-making strikes in July and September of 2011 brought national attention to the horrors of solitary confinement.  UN Special Rapporteur on Torture, Juan Mendez, stated that any time over 15 days in solitary confinement constitutes torture.  Yet many people in California state prisons have been encaged in solitary for 10 to 40 years!
Prisoner Hunger Strike Solidarity coalition invites you to support the hunger strikers by signing this Pledge of Resistance:
"I will take 1 action a week (an email, a phone call, a letter, a vigil, and/or activating my network) in response to some specific emergency facing the hunger strikers, and in resistance to the torture."
After each action, you will receive an update indicating the results of our collective,
respectful and peaceful action.  You can read the entire Pledge of Resistance, and sign the Pledge, in either of these two places:
1. The Pledge is on a Salsa program – Click  Here.
2. The email sign up is solitaryistorture@gmail.com.
Our goal is to get 1000 Pledges. That way collective responses to emergencies will really show the power of the people.
Thank you in advance for signing the Pledge of Resistance.
With respect and in solidarity,
Hunger Strike Coalition