Unitarian Universalists: Inner Workings
by Z
In June there was electricity in the air; change was just around the corner.  The non-white members of the Unitarian Universalist Association (Unitarians) were pressing for more visibility as a group and accountability from the white members at the upcoming General Assembly. My friend Laura was beside herself in anticipation – she was going to Columbus, Ohio for the showdown.  What would happen?
I caught up with her last week shortly after her return and was eager to hear all of the details.  Not being a Unitarian myself I was not familiar with the inner workings and needed a little background to help my understanding of the events in Columbus.
The General Assembly meets once a year and all congregations and covenanted communities can attend.  The purpose is to provide a democratic
process for developing and choosing Statements of Conscience, which act as priority guideposts for Unitarian Universalist Association staff.  This year the non-white Unitarians were looking for greater visibility, acknowledgement of leadership and "a place at the table." They were very involved in the planning for the General Assembly and the focus was on giving marginalized people more of a voice.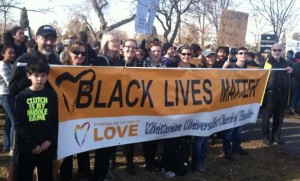 Each workshop was infused with this focus and provided participants with new opportunities to learn.  Provocative titles like "What are Micro-Aggressions and Why Should We Care?" invited people to process and explore and "An Introduction to Anti-Blackness" asked people to work on "actual problems" rather than imposing solutions onto imaginary problems.  People were encouraged to be in the moment when the flinch occurs in those "did that just happen?" moments and to speak up more!
As always, there were moments of great silence when the white Unitarians heard examples of Micro-Aggressions that had occurred in previous Unitarian meetings and, upon self-reflection, recognized themselves in those instances.
Overall I was thrilled to hear that this process was happening and it gave me hope that if the Unitarians were active in this process maybe other White Institutions would follow suit.  Maybe my non-white children and grandchildren will not have to suffer through the ugliness of polite racism!