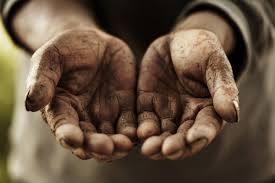 The Case for Humility
by Wendy Millstine
I had the privilege of hearing activist and author DeRay McKesson speak on his new book, On the Other Side of Freedom: The Case for Hope. He spoke from a place of personal life stories, on-the-ground activist experience, and strategies for keeping up the good fight for social justice and equity.
I'll be honest from the get-go, I haven't read his book yet, so I can't speak to that subject. And I also didn't take notes on the event because, truthfully, I was spellbound by his every word. DeRay is a masterful orator who mesmerizes you with his wit, candor, preciseness, political astuteness, clarity, humor, and presence. He knows innately the power of words, his words, and he wields them like a skilled swordsman. He's the kind of speaker who could call people to action for a good cause and easily get five thousand activists on the streets in a matter of days. DeRay makes the revolution irresistible because you feel like you can't lose with him on your side.
DeRay filled our afternoon with endlessly poignant points ranging from mind-blowing statistics on race and inequality to nuances of unconscious racial bias to police violence to shifting the paradigm to finding common ground with people who would likely never agree with you politically. But the real reason why I felt compelled to write this was because of one particularly inspiring point that DeRay made about activism and making a difference. He told a brief story about his early days of getting involved in change-making activities and it all started with making sandwiches. Yes, food prepping and feeding people. And his point, I believe, is to begin with something small, something achievable, and you'll eventually come to find how and where you fit in and how you can genuinely be a part of a movement for justice.
His insight resonated with me because it reminded me of my own story around activism. I was in my early 20s, when a friend came over and urged me to check out a powerful environmentalist who was launching a grassroots effort to protect the world's last unprotected, intact, old-growth redwood forest up in Headwaters. The activist was none other than the charismatic feminist and social justice leader Judy Bari. She was so persuasive and convincing that I packed my bags the next day and headed straight to Humboldt county with a group of folks to save Headwaters Forest. First night at the campsite, people were asked to take on specific duties and responsibilities. None of the jobs sounded very glamorous but I was raised to take pride in decent labor and hard work, so I volunteered for food prep with Food Not Bombs. For days, I stayed back at the campsite, cutting an endless mountain of veggies and helping out with feeding the activists. Later, I offered to do security in a parking lot, so activists' cars wouldn't get vandalized. Just before leaving, I volunteered for camp clean-up duty. Upon my return to Oakland, I felt greatly humbled. I didn't get to come back to tell glory stories from the frontlines and resisting arrest. No front-page news coverage, and no chaining myself to the redwoods story. I did come back humbled though.
Being humbled by my activism experience up at Headwaters made me realize that I am not as important as I thought I was. I learned that small gestures are important and those small actions are often perceived as less but actually play a critical role in keeping any movement alive and vibrant. Being humbled also shaped how I approach activism today—that I often don't need to be the leader or the front spokesperson. I often feel more comfortable playing a far less glamorous role in activist groups or actions. I also noticed that it is often mostly women (and not men) who take on activism work behind the scenes and are willing to take on smaller roles—volunteering to do clean up, or food prep, or security, and so on. I have done some glory work—getting arrested, blockading, shutting down traffic, etc.—and I like doing that kind of activism too. But the real work behind any movement is often tedious, boring and a lot less exciting to brag about to your friends. Still, I find this quieter role to be a good reminder that the bigger goals of any movement for social justice have nothing to do with me and everything to do with the others that I serve with humility and honor for the long haul.
When people of think of activists or fighting the powers that be, they often think of grand, heroic gestures or people with superhero powers, dismantling the systems of oppression with lightning bolts. But what is often left out of the equation for a lot of white people is the importance of humility. If you lead a movement for social justice with your ego and your white entitlement, you may likely cause more problems than you wish to solve. But if you are willing to act with humility and willing to be of service to a greater good, your actions, however small, may be more powerful than you realize. And as a white racial justice activist, I truly believe that a little bit of humility goes a long way in cross-cultural coalition building and sustaining a long-term movement for justice. In our efforts to "Get Woke," we might also benefit from getting humbled.
If you haven't seen or heard of DeRay McKesson, I suggest you do. Take the next 7 minutes and check out his interview on the Daily Show:

You can also support his work by picking up a copy of his new book, while at the same time support one of our local, independent bookstore: https://www.copperfieldsbooks.com/book/9780525560326