As told to Z
It was a quiet summer afternoon and I was just getting home from playing tennis with my daughter.  I parked in front of my home and was unloading my gear from my car.  A silver car slowed down as it was passing me and the white male driver loudly said, "NIGGER."
My lovely summer day was shattered into an ugly experience, one that had occurred many times during my seventy-two years of living in America as a black man.  I struggled to understand why?  I had never seen this person before or had any encounters with him. Was this the TRUMP-effect permissioning people to act in ugly insulting ways?
In a conversation later in the week, although I felt conflicted about sharing the ugliness, I shared this incident with Sally who belongs to the Racial Justice Allies of Sonoma County.  My story made its way into a meeting a few days later and the group discussed possible responses.  A younger white woman, Alice, said that she felt a direct approach was needed and volunteered to go talk to them, if I knew where to find them. Sally reported the discussion and offer to me. I mulled it over for a few days and said YES to Alice's generous offer.  A few days of research yielded a location and a name for the person.
On the following Sunday, Sally and I met with Alice to go over the particulars of the incident.  She asked, What outcome did I want?  I wanted to know WHY?  Why on that day? Why at that time?  What motivated him?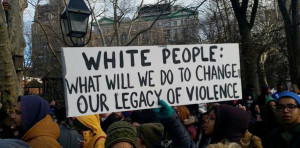 Alice took a friend and went over to talk to the man I'll call "Michael" about his motivation for his actions.  The conversation was short.  Michael said he would never do anything like that.  He thought he was saying "Hi Neighbor" and was misheard.  Alice returned to report the encounter and we talked for a few moments.  It helped me let go and release my questions. I will probably never know why he did what he did, but after being so exposed, he may think twice the next time his mouth is so Moved!
This all reminded me of a poem.
"Incident"
by Countee Cullen
Once riding in old Baltimore,
Heart-filled, head-filled with glee,
I saw a Baltimorean
Keep looking straight at me.
Now I was eight and very small,
And he was no whit bigger,
And so I smiled, but he poked out
His tongue, and called me, 'Nigger.'
I saw the whole of Baltimore
From May until December;
Of all the things that happened there
That's all that I remember.