Reflections on the Black Panther Party 47th Reunion
by Carol Kraemer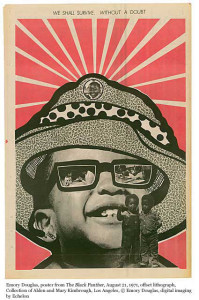 The 47th reunion of the Black Panther Party in Santa Rosa, CA, was a three day event that was largely organized by Elbert "Big Man" Howard, and his many friends who were present testified to how he was ALWAYS an organizer.   I was only able to attend for a couple of hours on Friday, seeing the end of  the film Unlock the Box, a movie that argues for abolishing solitary control units.   I'd love to see the whole film some time. The old clips from Attica in the seventies were particularly moving.  The prisoners had set up an encampment in the yard, similar to the more recent OCCUPY encampments, and they looked so happy and unafraid.   I don't recall that being part of ANY of the coverage by the mainstream media at the time.  It was all about "riot" for them.
The two person panel I had come to see included Claude Marks, a founder of the Freedom Archives and prison rights activist, and Manuel La Fontaine, representing the Prisoner Hunger Strike Solidarity Coalition.   The small. multiracial crowd that was there to hear them appreciated the news that they brought.   Mr. La Fontaine, in particular, spoke movingly about how the prison system perpetuates racial divisions.    As he pointed out,  30,000 people on hunger strike in the prisons would never have been possible purely through intimidation from gang leaders, as the story goes in the media.    All those people were in solidarity across racial lines to demand humane treatment of prisoners.  Mr. Marks was also clear in emphasizing how prisons are deeply flawed by the fact that they only look to violence as a solution to violence.   He also invited people to write to the Black Panther members who are still in prison, some after decades in solitary confinement.
My own memories of the Black Panther Party are fairly vague.   I was in high school in 1967 and went to college in Portland, Oregon.   The idea that a group of people might need to organize for self-defense and liberation made sense in a colonial American sort of way for me, but applying it to the present flew right over my privileged white, college girl head.    Revolution was popular as a romantic meme, but most of us were just trying to make our way through a system that seemed to offer rewards for the little white mice that stayed in the maze.   Now that my hair has turned grey, I was charmed to see the elderly Panthers, some with walkers and canes, enjoying the reunion with their brothers and sisters from the past.    There is no question that the flame of resistance to a violent, unjust system is still alive.   There were young people at that small gathering, too, and they were listening with great care and attention.