PERSONAL REPARATIONS by Dinah Bachrach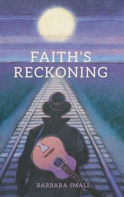 A friend recently gifted my partner and me with an historical novel that just came out, written by a Southern white woman, Barbara Small: Faith's Reckoning. It gripped me, touched me to tears several times, educated me. And left me wanting to recommend it highly to all my white, anti-racist friends who like me struggle with the enormous chasm between our white, mostly segregated, advantaged lives and the daily reality for non-white people of inequality and racism in myriad forms. I fervently support the struggle for reparations on a systemic level, but what about one's own personal reckoning, in our own relationships? What about our own responsibility toward healing what our white ancestors took part in, knowingly or not, toward genocide and land theft of Native peoples, toward slavery and discrimination that continue today?
This book is about personal reparation by a Southern white woman, Faith Wiggins, in her 70's with a terminal illness. As the book jacket describes: when she was 14, Faith was confronted with a dilemma, pitting family loyalty against a call for justice. She could keep her father's secret or speak up for her beloved Delsey, a sharecropper's daughter who worked for him. Now at the end of her life, her greatest regret is the action not taken. She kept his secret and now wants to make reparations for how her father's actions affected Delsey's husband Plessy Walker.
This book is also about her favorite niece Sylvia whom she enlists to be the executor of her Will. Sylvia undertakes the larger journey this entails, while she faces the seeds of racism within herself that shaped the most consequential decision of her life. The book alternates chapters between the 1990's and the 1930's forward as you follow the lives of Faith's parents and Delsey and Plessy. It is all interwoven with much history about A. Phillip Randolph and the Black Pullman Porters, all told with a master storyteller's vivid detail, so the characters and the Delta Blues music and the land all came alive for me in a way that has stayed with me. The characters, both white and black are all multi-dimensional, flawed yet evolving as they struggle with societal circumstances of their times.
Reparation, repairing something damaged, broken. How do we as white people attempt this with non-white people and how is it received? How much is it designed really to ease the conscience of the white people? As a Black person in the book says: "Accountability is crucial but without a real understanding of the experience of Black people, will anything change? In this country built on a system of slavery, racial discrimination persists in a very personal way. It's fear for your body, the ache for the freedom to pursue your dream, wondering if basic fairness applies to you. Without empathy, money is just a bribe to forgo real accountability"
How do I, and other white people, gain that empathy, that understanding of what non-whites deal with daily in our racist world? The best way is clearly through personal relationships that build the kind of trust over time and work together so honest sharing and feedback can happen. Like many other white people, my work, my job, my friends are mostly in white spaces. I have a handful of non-white friends I treasure, and have been both humbled and honored to be given honest non-shaming feedback when my unconscious "good" white intentions have been disrespectful, hurtful even. I continue to look for ways, spaces to develop more, through activism, the wider Quaker community and online groups like Coming to the Table.
But the biggest way I continue to gain understanding and empathy is by reading books, fiction and non-fiction, by white people who have engaged deeply in non-white communities, and by non-white writers. And often it is fiction and memoir, the power of story-telling, that teaches me the most by taking me deeply into a character's internal and external experiences so I am touched and recognize myself in the "other", our common humanity, even while I become more conscious that I can't know what it's like to be another person.
This book, Faith's Reckoning, is one of those. And so many others have taught me, seared me, enriched me over the years:
Homegoing by Yaa Gyasi
The Water Dancer by Ta-Nehisi Coates
The Invention of Wings by Sue Monk Kidd
The Watchman and LaRose by Louise Erdrich
Watermelon Nights by Greg Sarris
Sing Unburied Sing by Jesmyn Ward
Demon Copperhead by Barbara Kingsolver
See No Stranger by Valarie Kaur
These Walls Between Us by Wendy Sanford
Braiding Sweetgrass by Robin Wall Kimmerer