The room was humming with voices and energy as we dragged in extra chairs to accommodate the 36 folks who turned out to dialog on #BlackLivesMatter. After starting with some readings from Alicia Garza, co-founder of #BLACKLIVESMATTER, everyone shared with a few others what they hoped to get from the dialog. Responses ranged from ending selfishness and taking a first step into being involved, to sharing knowledge and experience, to making connections. A short experiential activity exploring our experiences with and expectations of police opened up the differences in that regard.
Sitting with our thoughts on police violence, white supremacy, and living lives where race matters, we opened to hearing two activists describe their experiences with demonstrations and street actions as part of the #BlackLivesMatter movement, one discussing activities in Oakland and the other in Ferguson. A Sonoma county activist described her efforts to bring African-Americans together in the county into the Heru Network. Questions and discussion followed where the theme of wanting to be involved but not knowing how emerged, with a recognition that dynamics and demographics in Sonoma county are different from Oakland, and how can we build a movement here.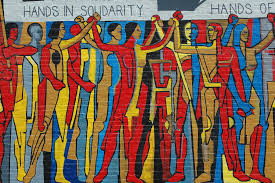 One participant pointed out that you can't google "activism" or find out what's going on in the Press Democrat; to get involved you have to be proactive. Go out and find people through Facebook or events (such as at the Arlene Francis Center). Listen to the radio—KBBF (Broken Record: Mon. 9 pm or Tues 2:30 pm and also on KWTF ) or KPFA (Hard Knock Radio Mon-Fri 4-5 pm) or KWTF (Rebel Blues Fri. 8-9 pm)  Also KOWS and KGGF —all of which carry alternatives to mainstream media.  Another reminded us that #BlackLivesMatter is but one iteration in a long line of resistance to white supremacy, which by-the-way is alive and well in Sonoma County with even blatant groups such as ECV.
Breaking into small groups for a few moments we each talked about what we plan to do now to be involved. Rejoining as a big circle we shouted out our actions and stated what most excited us about the evening. Numbers! Such a great turn out. The rich context of experiences. Old and young together. Connections made. The multiple voices. The preciousness of space for dialog. Getting out of the "bubble" of Oakland. Learning organizing strategies. Want to continue.